Melbourne (formerly Basel).
tibits Case Study
| Zürich University of Applied Sciences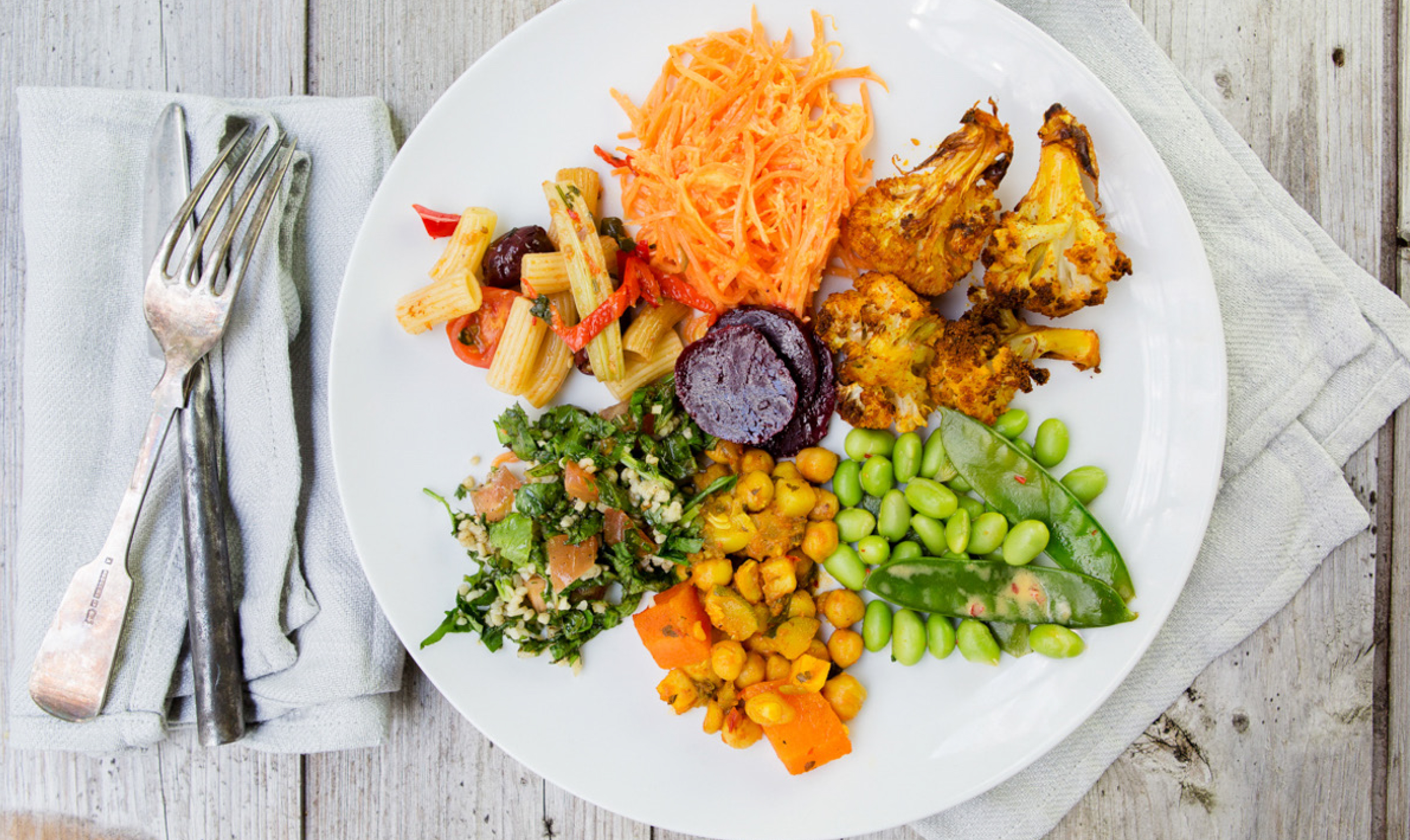 1. Introduction
Founded in 1999 by vegetarian brothers Daniel, Christian and Reto Frei, tibits AG is a vegetarian and vegan restaurant which serves high quality, fresh and nutritious fast-food in a relaxed environment (
tibits, 2017a
). Guests fill their plates from the lavish buffet (dubbed the 'food boat') in the centre of the restaurant, weigh in at the counter, and are encouraged to share tables with others, creating a warm, communal and casual atmosphere.
The first tibits restaurant was opened in 2000 at Zürich Seefeld, with the assistance of Rolf and Marielle Hiltl (owners of Haus Hiltl in Zürich, the oldest vegetarian restaurant in the world). The collaboration between the two families came about following a university business plan competition in 1998, which the Frei brothers entered with the vision of creating a young and relaxed vegetarian restaurant in which they could eat (
Landlove, 2013
). Rolf Hiltl recognised one of the brothers from an article commending the business plan and got in touch. With a shared philosophy and understanding, the two families formed a partnership (
Landlove, 2013
). As a result, there are many similarities in the dishes offered at tibits and Hiltl, particularly in regards to Hiltl's own buffet selection.
Since 2000, tibits has expanded to include nine restaurants in Switzerland: Zürich Seefeld (2000), Winterthur (2002), Bern Bahnhof (2003), Basel (2007), Zurich Seefeld Bistro (2010), Bern Gurtengasse (2013), tibits Lucerne (2015), tibits Oerlikon (2016) and tibits St. Gallen (2017); and two restaurants in London: London Heddon Street (2008) and tibits Bankside (2017) (
tibits, 2017c
). The company now has between 201-500 employees (
LinkedIn, 2017
).
In Switzerland, 80 percent of the offerings on the buffet are vegan, and for guests who have dietary concerns, there are a range of different symbols allocated to each dish indicating the ingredients, to guide their selection. The same system has been emulated in London, with the exception that Tuesdays are entirely vegan (
tibits, 2017b
). The menu itself is seasonal, rotates on a regular basis and changes depending on the time of day – there is also a Sunday Brunch available in Basel, Bern Gurtengasse, Lucerne, Winterthur, Zürich Oerlikon and Zürich Seefeld Bistro. From morning until evening, there are up to 40 dishes on offer daily, which are replenished throughout the day to ensure the freshest quality (
tibits, 2017a
).
Pricing at tibits is based on weight per 100g and differs depending on the meal and location (London or Switzerland). In London, lunch is priced at £2.50 and dinner is £2.80; by comparison, in the Swiss restaurants, there is no price difference between lunch and dinner – everything is priced at CHF 4.20 to eat-in and CHF 3.70 to take-away. Water is free and one small bread roll is also included in the price. tibits' pricing strategy was designed to provide autonomy to guests (they can decide exactly how much and of what they wish to eat), discourage overeating and minimise waste left on plates (
Landlove, 2013
). This system also allows tibits to strategically replenish key dishes an minimise the overall waste of the restaurant.
Expanding to London in 2008 was a strategic decision to bring tibits' vegetarian fast-food to a more cosmopolitan location (which is close enough geographically to ensure quality management). London appeared to be culturally similar, wealthy, open to foreign cuisine and full of busy people who would appreciate a convenient, high quality, healthy and fresh meal. However, there were several challenges which had not been entirely anticipated, including marketing and publicity in attracting the right customer and the Global Financial Crisis.
2. Business Challenge
The main business challenge for tibits in expanding into London lay in the entry strategy and marketing to a completely new audience. According to Reto Frei, it was necessary 'to first understand the local market, find the right partners and an initial location' for tibits (
see Appendix 1
). However, this did not entirely go to plan, as shortly after tibits arrived in 2008, the Global Financial Crisis hit London's banking sector, resulting in a significant financial hit to a fledgling international expansion.
tibits began its operations in London with two restaurants in 2008 (a bold move for a Swiss SME) – one on Heddon Street near Piccadilly Circus and the other in a shopping mall which has since closed. In a similar vein to the tibits model established in Switzerland, locations for the restaurants were sought based on their proximity to established shopping strips and tourist centres, with the reasonable assumption that shoppers would gravitate towards a fast yet nutritious meal. tibits opened another restaurant near the Tate Modern on Southwark Street in 2007 (tibits Bankside), in an attempt to attract art-goers who may be more open to vegetarian cuisine. While the locations were carefully chosen to maximise visibility, there have still been several challenges in attracting the right customers and overcoming cultural barriers regarding marketing and communication.
Following the opening in 2008, tibits needed to invest heavily in marketing, communication and customer education in order to convince the British people of the restaurant's worth. This was especially important as there was very little product adaptation from the original Swiss model (
see Appendix 1
). tibits was a new concept for London (and relatively culturally unknown that a buffet is not automatically 'all you can eat'), which meant that more information was required to inform customers of how the restaurant worked to gain their understanding, interest and loyalty. In 2008, wide-spread vegetarian options were still sparse in London, meaning that tibits' offering from Switzerland was considered 'exotic' by most and thereby not entirely trusted (
Landlove, 2013
).
Word-of-mouth advertising was also addressed as a key area for tibits to focus on in the initial stages, as many potential customers rely on the opinions of friends, family and social meaning reviews when deciding where to eat. According to Reto Frei, 'it was important that to build a strong foundation, we invest a lot in the explanation of the concept so that guests understood our philosophy and became fans. These fans then told their friends about us and brought in new guests. We became very aware of the importance of word-of-mouth advertising during the build-up phase' (
see Appendix 1
). While this proved reliable in generating interest and loyalty, it meant that expansion was slow in London when it came to the customer base.
As tibits' model is already a prominent concept within Switzerland, there is very little information provided regarding how the restaurant operates, aside from the website. It is therefore assumed that guests understand the pricing structure, the 'food boat' buffet and casual seating (and if not, then they can simply follow what everyone else is doing, as it is often busy). By comparison, when entering a tibits restaurant in London, customers are greeted by a maître d', eager to explain the concept, pricing and dishes available. There is also a comprehensive website in English, in addition to postcards and translated advertising material, which provides an integrated connection to the Swiss restaurants. Of course, even with such information, there were still instances in the beginning where some customers in London felt so overcharged and confused by the system that they simply left their filled plates in the restaurant and walked out. What worked so sucessfully in Switzerland was still a challenged to be implemented smoothly in London.
Pricing for London is comparatively less than Switzerland, however, given the quality of ingredients and preparation, is still high, which meant that tibits was significantly more expensive than some of its other take-away competitors such as Eat and Pret a Manger (which offer pre-packaged sandwiches for under £4.00 and already had established supply chains and a loyal customer base). As a result, tibits implemented a cut-off price of approximately £17.00 (which was not publicly known and is not available in Switzerland) to ensure that customers who did have a high weigh-in felt as though they were being charged a fair price.
Differences in Swiss and English culture have also played a role in tibits' expansion into London. tibits' position as a casual restaurant in Switzerland is likely to be considered sophisticated in London, due to the attention to detail in interior design, aesthetically pleasing presentation and pricing. It is also important to note the cultural differences in what constitutes 'lunch' between Germanic and Anglo-Saxon clusters. In Switzerland, to sit down to a warm and sumptuous lunch is considered important and is emphasised from a young age in the form of school children coming home in the middle of the day to eat, and even in high school and university with the cafeteria. In contrast to this, in England, lunch is typically considered to be of lesser importance (dinner is the main meal) and usually consists of a sandwich, a piece of fruit and a bag of crisps. While it is possible to alter cultural eating habits, it may require years of investment to realise.
As if all of this was not enough, the devastation of the Global Financial Crisis (considered by economists to be the worst financial crisis since the Great Depression of the 1930s) meant that tibits met additional financial challenges early on (
The Guardian, 2008
). According to Reto Frei, 'the people became insecure and went out less, which made it difficult to build th business (
see Appendix 1
). The recession following lasted for five quarters and resulted in many businesses having to fold. Indeed, by 2011, the unemployment rate had risen to 8.3 percent across the country (to include 2.68m people), the highest since 1994 (
The Guardian, 2013
). While London is still the primary economic sector, as a Swiss SME entering a foreign market for the first time, this was a difficult storm to weather. To remain financially competitive, tibits needed to relinquish their London shopping mall restaurant and focus their efforts on Heddon Street (Mayfair). This closure is not widely mentioned; however, it is important to remember that no business is immune to economic cycles. It was not until nine years later that tibits had the market confidence to open its Southwark Street (Bankside) restaurant and continue with its international expansion (
tibits, 2017c
).
While not all of the aforementioned challenges were able to be reasonably predicted, several key points have been addressed in the solution and the best practice to assist tibits (and other companies facing similar challenges) in developing strategic and sustainable methods for international expansion.
3. Company Structure in Europe
In accordance with the company structure illustration (
see Appendix 2
), tibits' operations are divided into two key segments – tibits London and tibits Switzerland. Despite this divide, the founders of the company (Daniel Frei, Christian Frei, Reto Frei and Rolf Hiltl) still oversee all of the operations, ensuring there are synergies between the two company segments. In addition to this, each of the Frei brothers occupy key roles which are best suited to their skillset. Daniel Frei is the CEO and Head of Operations Services, Christian Frei is the Head of the Corporate Design and Reto Frei is the COO and Head of Product Services (
tibits, 2017a
).
tibits operates nine restaurants in Switzerland and two in London, with the majority of employees working as kitchen staff, followed by front-of-house. These two areas of employment are of high importance for tibits as quality in food production and service are integral when operating in the hospitality industry.
In Switzerland, tibits has their Head Office in Zürich. This is where strategy is developed across all of the restaurants; and, different departments, such as Marketing and Sales, Human Resources, Operations, Research and Development and Finance are located. As part of the Research and Development team, there is a special kitchen dedicated to creating new recipes for restaurants in Switzerland and London. Currently, the dishes offered to guests are 80 percent the same across the two locations, with some, such as Bangers and Mash and 'Sticky Toffee Pudding, designed specifically for the London audience. On Occasion, recipes are also brought to the company's attention by employees, who are then invited into the development kitchen to experiment and share their knowledge (
see Appendix 1
).
Every restaurant in Switzerland is headed by a General Manager and Junior Manager who oversee front-of-house production activities and are responsible for correspondence between the restaurants and Head Office. The Chef and Junior Chef lead the production team, which consists of shift leaders and production employees who prepare the dishes according to a centralised 10-day rotating menu, that changes seasonally. The front-of-house team is managed directly by the General Manager and consists of front-of-house leaders and employees who are jointly responsible for sales and service (
see Appendix 2
).
In London, the back office is integrated into the restaurant, as it is significantly smaller than the Swiss operation (
see Appendix 2
). The Marketing Manager, General Manager and Restaurant Manager work in close proximity with one another, allowing smoother communication. This is particularly beneficial for London as the business is still growing, meaning that if there are any complications, the team does not need to filter through a hierarchy to manage challenges.
In addition to their restaurant operations, tibits also has key local suppliers with long-standing contracts. Walter Kaepeli (located just outside of Zürich) provides the daily service for all restaurants' fresh produce (fruit and vegetables) as well as the delivery of baked goods (such as croissants, bread rolls, muffins and brownies), which are produced specifically for tibits by Lehmann Woodfire Bakers. Nopa suppliers freshly made tofu; milk products are all Demeter quality; and Hosberg AG provide tibits with eggs. In London, supplies are sourced in a similar manner with local partners, while some long-life ingredients are brought directly from Switzerland to London, such as integral spices, dried beans and tibits' signature iced tea mixture, in order to ensure quality and consistency (
see Appendix 1
).
4. Solution to the Business Case
According to Reto Frei, in response to the challenge outlined above, tibits first created a film to thoroughly explain their concept in order to impress upon real estate owners and agents the need for the right location in London (
see Appendix 1
). As vegetarian and vegan restaurants were still relatively uncommon in 2008 and thereby met with some scepticism, this was particularly important in spreading awareness and educating the key players of their vision. Once the location was established, tibits was able to seek out the right partners (
see Appendix 1
). As a company, tibits wanted to expand sustainable – not necessarily swiftly, but rather in a way that enhanced their current offering and maintained their high quality menu.
Additionally, by developing a comprehensive website in English (with an integrated design) and focusing primarily on public relations and word-of-mouth advertising, this allowed English-speaking customers to feel more at home. This idea, interlinked with the three-exposure principle in marketing psychology (the more one is exposed, the more desirable the offer becomes), proved incredibly helpful. Lastly, by sharing recipes on their website and in developing a strong social media presence, this assisted in building a community of followers, thereby increasing customer loyalty and giving back to those who share in tibits' philosophy of eating well.
5. Best Practice
Clearly for the case of a best practice, recessionary climates should be avoided, however, much like a natural disaster, the Global Financial Crisis was unforeseen even by experts, indicating that tibits was simply unlucky, rather than poor at planning. Of course, opening two stores in London to begin with was not without risk in any climate, and so, in his interview, Reto Frei noted that if they were to go back, launching a pop-up restaurant in a busy location to test the market would have been preferable (
see Appendix 1
).
It was also noted by Reto Frei that tibits would have benefitted from developing even closer relationships with more local partners to build further customer awareness early on (B2C), as this ended up providing the foundation for their entire London market moving forward (
see Appendix 1
). In future ventues, tibits could benefit from completing thorough cultural analyses and further product adaptation in order to grasp a greater market understanding before entering a new environment, rather than focussing on replicating their current offer, which while successful in Switzerland, may be challenged by different cultures' culinary preferences.
As for tibits' success however, expanding to a geographically close location was an intelligent move as this allowed the company to use their current supply chains in Switzerland while slowly expanding into the London market. Of course, new distributors of fresh produce were sourced in England, however this was able to happen organically as contracts were drafted. Likewise, with sourcing staff, Swiss veterans at tibits were encouraged to move to London (just a stone's throw away from Zürich) to train the new recruits. This procedure in turn allowed the company to cut down on recruitment costs while simultaneously ensuring that the quality of tibits' offering was upheld.
---